I'm not the kind of person who can journal in a beautiful blank or lined notebook. The page feels overwhelming – as if I need to write something prolific and worthy of that page, which is why I have over a dozen empty ones stacked in my book case.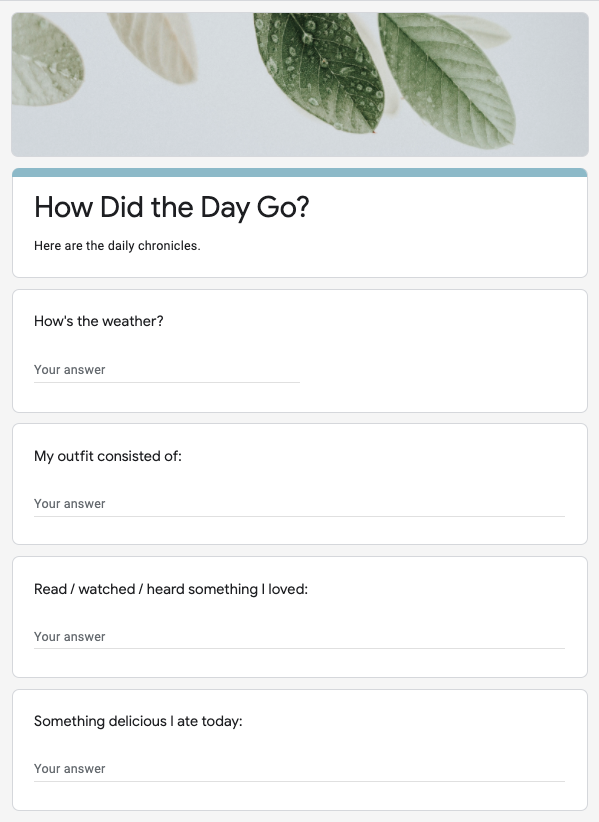 Since blank notebooks don't inspire me to write, I decided to try a simple 2020 planner with all the dates printed and a small space for notes. It was working well up until last month.
For some reason, the handwriting started becoming more cumbersome and if the planner wasn't within arm's reach, I'd put off journaling until the next day…which then became the next week.
There are digital planners and online options available which I've tried but they were either too complicated or there wasn't an archive function I was comfortable with. Also, did I really want another username/login to keep track of?
So, in stepped Google Forms, which I'd been tinkering with. I enjoy filling out forms – jotting down some short info and then sending it off like I'd accomplished a task.
What if I created a series of prompts to answer which would create a series of journal entries once I hit the submit button? The only issue was the formatting of the data once it was populated in a Google Sheet. I really didn't want to read back entries while scrolling through cells and rows.
If there was a way to push the Google Sheet data into a decently formatted Google Doc, then all my problems would be solved. Thanks to Jeff Everhart's tutorial, I now have what I've always wanted.
Here's how I did it:
Create Google Form with prompts (I found some great examples with this free quarantine chronicles printable from Uncommon Goods).
Have responses populate in a Google Sheet.
Create a Google Docs template.
Create the Google Apps Script. Refer to Jeff Everheart's Auto Fill Google Doc from Google Form Using Google Apps Script Tutorial.
It was an easy and straight forward tutorial to follow along. My technical background definitely came in handy (i.e., remember to always close your tags).
Now, I can "journal" easily from my phone, tablet or desktop. More importantly, it's become a daily ritual I look forward to at the end of the day.